what makes us different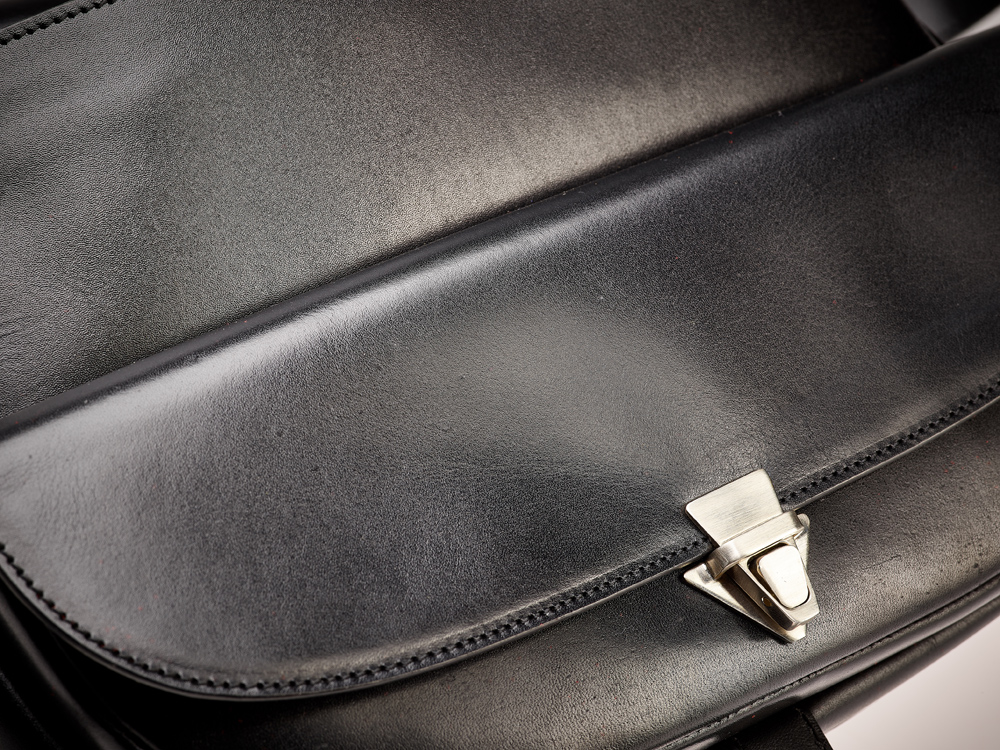 In order to understand what makes us different, we strongly advise you to visit the section OUR LEATHER first in order to understand the glossary of the terms and what full grain glazed vegetable tanned leather means.
In an ocean of products all over the world, most of them looking the same, we wanted to be different. But how, when everybody is doing the same thing? How can we be different and make a difference? The answer is so simple yet applying it is not an easy task: by doing it the hard way. We decided to do what only very few are doing anymore and to go against the current.
It all started from a personal belief that our ancestors used to do things better. All you have to do is look around you! We still look at some creations and wonder how they happened and we may not be able to reproduce them even if we want to. How were our grandfathers able to make so much preciseness and beauty with so little technology and very old tools? Look at the pyramids, the big cathedrals, and the historical remains we find in many countries that we look at in wonder.
The new technology and the fast life have given way to easy money and mass production. But we are sure there are still some people out there who, like us, want to be different. They want to carry unique items, timeless pieces. They don't want to buy a bag every week or every month. They might buy one or two pieces a year, and if they do, they want it to be really the best.
That's why we decided to go back in time and resuscitate traditional and artisanal production. It's true that it's not easy; it's expensive and it takes time but we want to share with you the best the profession has to offer. We want to share with you a whole experience, not just the best leather, materials, and accessories but also the spirit behind it all.
To appreciate a piece of art, one should be able to see and feel the soul behind the work. Same goes for everything in life. When people work with love and passion, they put from themselves into their work. If you put material perspective aside, and you try to see the product for what it is—as a creation of art and beauty—and what it takes for it to become what it is, you can start to feel what every person in the production chain felt throughout the entire process.
Worldwide, full grain leather is tagged as "the best and highest quality leather money can buy". Consequently, it is also one of the most expensive. Vegetable tanned leather is a very time consuming and long process. The ingredients used in the tanning process from beginning to end are also expensive. It needs audacity and courage to work with it because in a world where everyone is looking to increase profits by providing lower quality, vegetable tanned leather is the most expensive on the list and therefore not a profitable investment for money seekers. Glazing requires some passion and mastery. It has been omitted from the equation a long time ago. It has become so rare that you can barely find a few entries about it on Google!!
When full grain, glazed, and vegetable tanned properties come together in one product, make sure you are receiving the most valued and perfect specifications you can get in leather. At our tannery, we make sure to choose the clearest skins and the top of the line to give you the very best. It is true it's a long and hard procedure. It's also limiting; in the sense that it does not yield huge amounts of leather. It is very artisanal work but fortunately widely appreciated. Although as we said before we chose the hard way, we are also using it to our advantage and ultimately yours. Since we control the tannery and the factory, we are able to cut middlemen costs and present you with the best at very affordable prices. As they say, from the factory to the consumer.
The long wholesale chain has constrained many big brands to lower product quality in order to maintain high levels of profit and cover high advertising costs to advertise their product image. But at the end of the day, it's you, the customer, who is paying all the extra costs and it's only fair that you get the most value for what you pay for.
Our well thought out pricing strategy covers the product from the early tanning process until the final delivery. We eliminated as many extra costs as we could, but we also emphasized the fact that every person in the chain is working in dignity in very humane and respectable conditions.
We hope you like our little starting collection and we also hope to see you coming back often to share with us our new products coming out continuously.